Today's #Cultivate12 Prompt from Meredith: Foodie Friday — Cultivate Style: Food nourishes us. Some foods give us more enjoyment than others. Some foods leave us feeling less than ourselves. What foods nourished your soul and body this year? What food choices can you make in 2013 to cultivate more self-care?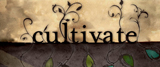 I spent part of my Thanksgiving weekend in Hays sorting through old pictures from my Grandma. They'd moved her out of her apartment and into a home a few months before this, but there were two boxes of 'stuff' left; stuff that no one else wanted to sift through, that had been overlooked; and that was mostly really junk and not worth the time it took to unpack it all and then toss it in the trashcan.
But not all of it was garbage. There were countless old pictures; all black and white, some curled, some torn, some stained. I recognized some people but others were a mystery, and I wondered why I didn't know some of these relatives and the role they played in my family.
What I wondered about most of all, though, were the stories of the women I knew as a young girl. My Grandma had two sisters that I grew up knowing. They lived together in true spinster style, harping on one another as they grew old and walking to the church that was only a couple of blocks from their house. I wondered particularly about Mina. I've talked about her before, but probably not as often as I should. She was my surrogate mother when I was very young, and her house was where I felt safest and most at home.
Mina never married or had kids of her own. But she treated me like a daughter. She cared for me when I was sick and well, taught me how to vacuum the carpets and wash dishes and helped me commit my Hail Mary and Our Father to memory. It was in her garden that I fell in love with tulips and swaziberries and jumped for countless hours with my Lemon Twist.
One of my most vivid memories about Mina was her chocolate covered cherry Christmas tradition. She bought them every year. I don't remember if she loved or tolerated them, only that she always had them. She also made a cookie version, though not as often as she bought a box of the store-made candies.
Since I was old enough to be on my own for Christmas I have, every year without fail, bought myself a box of chocolate covered cherries. Not because I love them, but because having that box sit on my kitchen counter reminds me of the woman who loved me so long ago.
So imagine my surprise last Saturday morning, when I opened a gorgeous tin of goodies from the incomparable Sandra Hale. Sandra had drawn the short stick in our exchange, and since I coordinated I got to tell her that she was baking for me. Because she's a sweet soul, she asked if there was anything in particular that I wanted; I responded that I was so excited to be surprised by whatever she chose to bake.
I just didn't expect to pull out a bag of chocolate cherry cookies. Beautiful, just like I remember Mina baking. Decadent and chewy with a hunk of cherry buried in the middle, just like I remember Mina baking. I hadn't had one for years.
And I'm sure I looked like a crazy woman, bursting into tears right there in the back of Chez Elle, but I couldn't help myself. Before I even opened the bag I knew, and I was overwhelmed with memories and love and happy thoughts.
I don't remember what her voice used to sound like, and I have no idea if I was just tired from a late night baking session or if I've watched too many episodes of Long Island Medium, but I felt certain she was there in some way, nudging me to remember that she was still guiding me even though she's been gone for such a long time.
I rationed those cookies all week long, nibbling on just one each night as I sipped tea and sat in the quiet of the my living room, finally decorated for the holidays with a tree and stockings and a wreath above the mantel. I thought about how I wish my kids could have met Mina, how I've wondered over the years if she'd adore them as much as I do and what she'd teach them. To be modest, to pray every night, to make kugel the 'real' way.
And I wonder what Erin will remember one day, and which treats will make her think of me or her grandma or her brothers. I hope that whatever it is, she bakes them for her own kids and tells them her favorite memories so that some day, not so far in the future, they don't find themselves sifting through stacks of pictures and wondering about the relatives they didn't get to meet.